October was Music Therapy Month in Ohio and we celebrated all month long! Corinne kicked off the month by hosting community Mommy and Me groups at Blue Ash Recreation Center. We had a great group of kiddos, parents, and family members and enjoyed singing, playing instruments, and dancing with puppets and scarves!
We continued the month by thanking all of our community partners- we have such great support for music therapy in our community and we are so grateful for the amazing people who support music therapy and the individuals we work with throughout the year! From local churches to schools to community centers and day programs, we feel the love from people all throughout the community!
Throughout the month, we posted fun facts on Facebook and featured interviews with each of our amazing therapists. If you didn't get the chance to read them, click on over to some of the previous blog posts and read about why we each chose a career in music therapy and the best part of our jobs!
We had great turnouts at our final two events for the month: a community drum circle led by Corinne and Yemani and a Fall Concert at the Lawrenceburg Library. Many families joined us for the drum circle and we had a great time making music together, learning more about each other, and laughing (a lot!). The Fall Concert featured a variety of rock, pop, and alternative music and was a great showcase of talent and musicianship- congratulations to all the performers!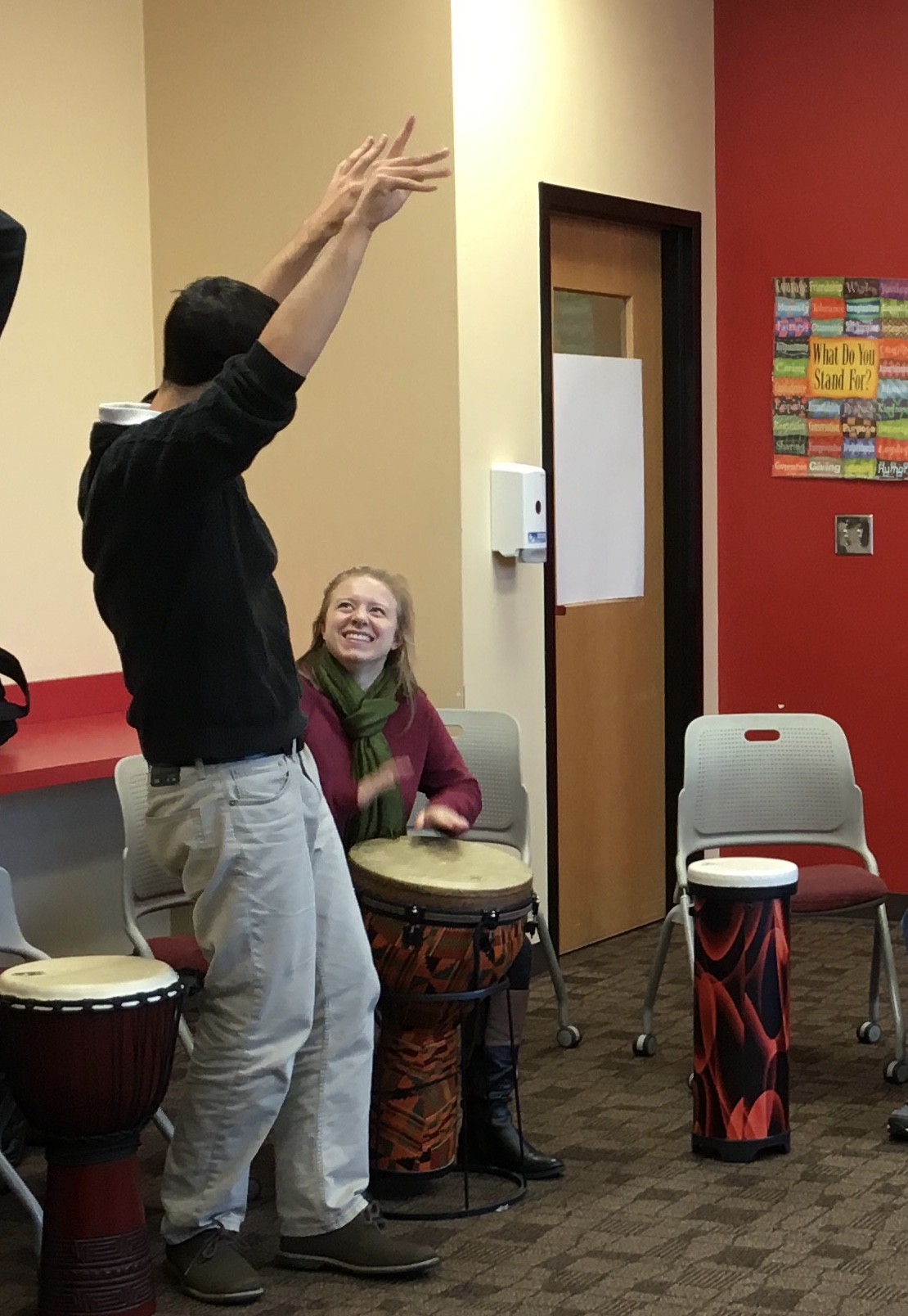 To finish off the month, we shared information, research, and techniques that we learned at conferences throughout the year. As music therapists, we are required to complete continuing education every year. We often take shorter online courses but also like to engage in more in depth training on specific topics as well. In the spring, I (Lindsay) attended the Rethinking Autism Conference in Evansville, IN. This conference highlighted the movement difficulties associated with autism and how understanding the motor component can help to drive how we approach learning and communication. Many autists presented at the conference using facilitated communication and expressed the overarching message- "Not being able to speak is not the same as not having anything to say". The presenters at the conference stressed that we must all "Presume Competence" with everyone, especially those with communication difficulties and challenge ourselves and the individuals we work with to accomplish new things. As a team, we discussed the ideas from this conference and created a Summer Challenge for all the therapists at Keys for Success to "Challenge Ourselves, Challenge Our Clients", to presume competence, always look for nuanced communication, and raise our expectations of ourselves and our clients. Although this is something we often do anyway as music therapists, the increased focus on this and our communication as a team surrounding it, pushed us to new heights, resulted in creative and engaging sessions plans, and we saw some awesome responses in therapy sessions!
Erin attended the Neurologic Music Therapy conference in the fall. In this intense four-day conference, Erin learned new music therapy techniques and the neuroscience behind the techniques. Erin immediately implemented many of the techniques in her sessions and found them to be effective in improving communication, motor skills, and other skill areas. Read Erin's blog post from 10/31 to learn more about the conference and specific techniques!
Corinne also attended a couple of conferences this fall. She shared the following update from our state music therapy conference: I had the opportunity to attend the Association of Ohio Music Therapists conference this fall. It was a great experience getting to hear about so many new music therapy techniques, research, songs, and connecting with colleagues new and old. One of the sessions that stood out to me, that I have already been able to use in sessions, was about a new adapted guitar technique using colored strings. The method is similar to Alfred piano music with a curriculum and follow up books, but has a specific set of colored strings. The method uses the fret number on the colored strings similar to traditional tablature. It made so much sense especially after being able to try it out first hand that this would be a great technique to try with some of my clients who want to learn guitar.
When I got back from the conference I mentioned this method to one of my clients and he showed up the next week with a pack of colored strings. The strings weren't the same as in the curriculum, so I decided to adapt and create my own colored string songs that were in the style of music this client enjoys. My client was extremely successful with this technique and has learned at least 6 chords and 3 songs using this colored tablature. I love getting the opportunity to create unique methods to help my clients learn and this is just one example of that. I hope to be able to get a set of strings and continue using this method.
Briana is heading to our National Music Therapy Conference this week and we can't wait to hear about the new research, ideas, and techniques that she'll be able to share when she returns! Thank you to all of you for your support of music therapy. We love what we do and love being able to share our passion with all of you!
We look forward to our holiday concert season, which starts the week after Thanksgiving! Hop on over to the Events page to find the details on the concerts. Also, Join our Email List so you don't miss out on any upcoming events or news!